Bee Optimistic T-Shirt
the story
Walt Kotecki (aka Jason's dad) dressed up like a bee to tell his family he had cancer. (Read the crazy story here.) Inspired by his father's positive attitude, Jason made him a painting featuring the friendly insect and the message, "Bee Optimistic." His dad requested the art be made into a pin that he could wear every day. Since then, Walt has purchased hundreds of pins, handing them out to anyone he meets who has been touched by the shadow of cancer, like he's a volunteer at a marathon handing out water to the runners.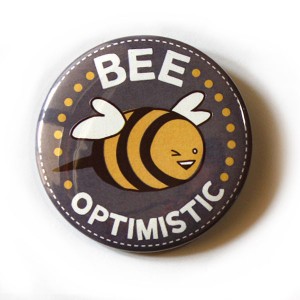 Because he is.
Fighting cancer is a hard race. Faith and hope is the water you need to keep going. When Jason's dad hands out the Bee pins, he is handing out hope. Although the action is small, the impact is huge. 
---
Shirt Details
Unisex Style
The Bella + Canvas 3001 t-shirt feels soft and light, with just the right amount of stretch. It's comfortable and the pre-shrunk unisex cut is flattering for both men and women. We can't compliment this shirt enough – it's one of our crowd favorites. And it's sure to be your next favorite too!
Colors
Available on our Deep Teal, Forest, Ice Blue, Lime, Orange, and Heather Grey shirts.